Would you like to stay at a hotel with a spectacular view of Mt. Fuji in front of you?
Let me introduce Hotel "La Vista Fuji Kawaguchiko", where you can see the magnificent Mt. Fuji from your room.
This hotel is one I highly recommend, you can satisfy not only your love of beautiful scenery but also enjoying delicious meals and relaxing, private hot springs.
La Vista is recommended for people who
– want to be awestruck by views of Mt. Fuji.
– want to be soothed in a hot spring.
– want to enjoy meals with local ingredients.
– want to travel luxuriously.
First of all, the reason I stayed at La Vista Fujikawaguchiko was because I wanted to stay at a hotel where I could see Mt. Fuji from my room. It's great to see Mt. Fuji basking in the spotlight of the morning sun.
Mt. Fuji is located between Yamanashi prefecture and Shizuoka prefecture. You can see it from both sides, but the 1000 yen bill depicts the scenery of Mt. Fuji as seen from the Yamanashi prefecture side.

La Vista also has a lot of private baths, including a private bedrock bath, so there many different ways for you to enjoy Japanese style hot springs.
Getting There From Tokyo
It takes about 2 hours by expressway bus from Tokyo (either Shinjuku or Tokyo Sta.) to Fujikawaguchiko Station, and it costs about 2000 yen ($18). You can get there by train, but the bus is recommended because it is faster and cheaper.
La Vista Fujikawaguchiko is about 10 minutes by car from Fujikawaguchiko Station.
It's on a hill, so it's a little difficult to get there on foot, but the hotel offers a shuttle bus from Kawaguchiko Station, so even if you don't drive a car, you can rest assured that you will arrive easily.
Check-in is smooth as there are English speaking staff. After checking in, you can head to your room immediately.
Accommodation, with Views of Mt. Fuji
When you arrive at your room, you can see Mt. Fuji from the window. There is nothing blocking the view, it is very impressive! You can feel the grandeur of Mt. Fuji up close.
You can enjoy the view of Mt. Fuji on the terrace, but there is also a sofa for two in the room, so you can relax.
The rooms have a warm atmosphere, as if they were inspired by Southern France.
The tiles on the washbasin are cute, shining like pearls.
Japanese tatami-style inns are nice, but I find it easier to sleep in bed than in a futon, so the western style of La Vista is very pleasing.
Some rooms have a bathtub on the terrace, but I chose a room with a bathtub in the room. I didn't use it because I wanted to enjoy the private bath and the hot springs in the large communal bath, but it seems to be useful if I have small children.
Variety of Private Hot Springs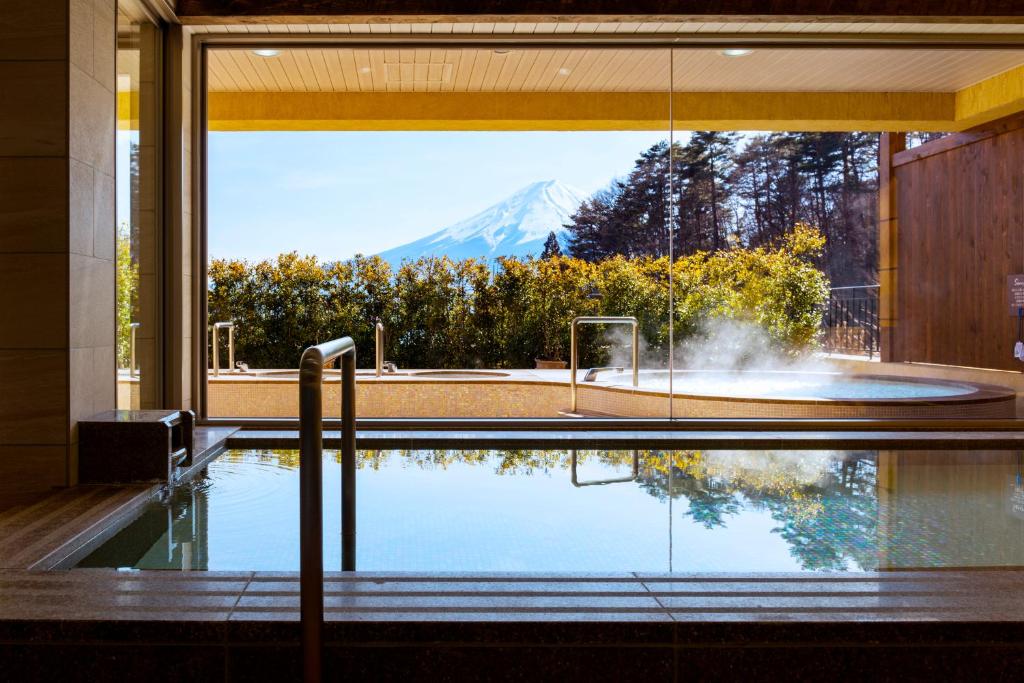 There are 4 private baths (3 are hot springs and 1 is a hot-tub type), 1 private bedrock bath, and large public baths for men and women. Private baths and bedrock baths do not require reservations and can be used as many times as you like if there is a vacancy.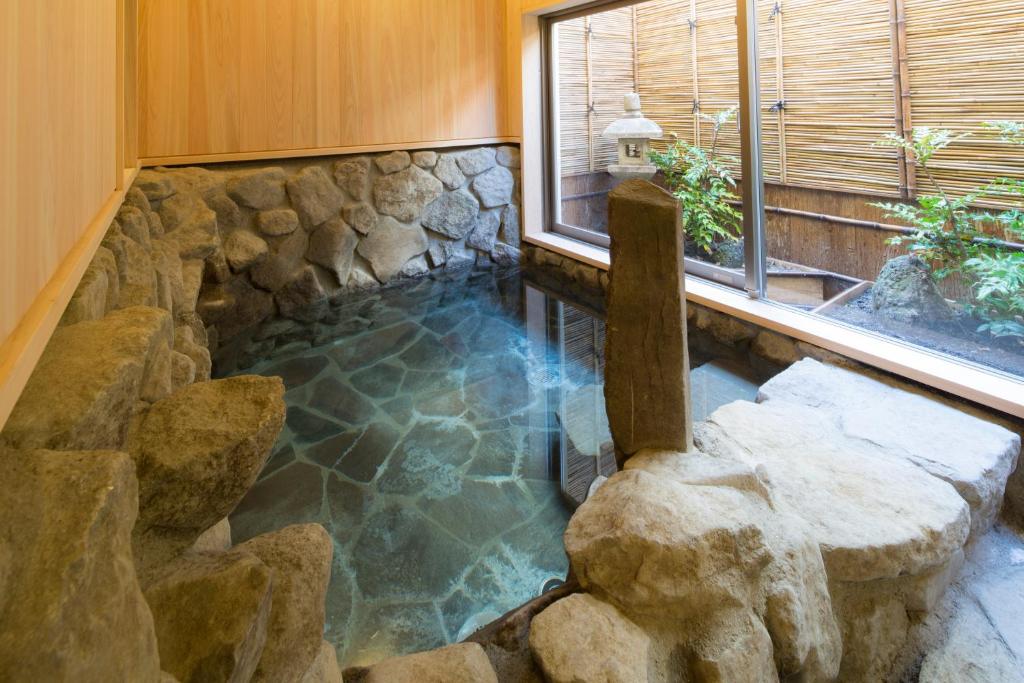 All private baths have a theme, the atmosphere is different no matter which you choose you enter, such as brick baths and bamboo baths. The bedrock bath had two reclined, tiled chairs, so you can enjoy it together with a partner.
Personally, so I first enjoyed bedrock bath, then switch to a hot spring and it was very delightful.
Early check-in and late check-out are also available if you want more time to relax. Because there are many types of baths so I was able to stay a little longer and enjoy them all.
Locally Sourced, 8 Course Dinner
Dinner is a full-course Western meal that uses seasonal and local ingredients. There were two time slots available, 5:30 and 8:00, which you can choose at the time of check-in.
Dinner takes about 2 hours, I chose 5:30 so I would have time afterwards to spend more time in the hot springs.
You can choose to be seated either at table or counter for your meal.
The full course includes 8 dishes.
Apéritif: ours was a butterfly bee cocktail
Appetizer platter
Rustic paté pie wraps
Cherry shrimp Genova pasta
Asari clam and cabbage chowder
Ainame poche
Kuroge Wagyu beef steak or lamb rack
Dessert: we had Mont Blanc with strawberry ice cream
At the end of the course, rice, miso soup, and pickles are also served, which is a very Japanese style.
Lastly, dinner also comes with a choice of coffee, tea, or herbal tea.
Each dish uses locally sourced ingredients, so you can enjoy the taste of Japan.
Since each plate was very generous, I was full when I was having fish, but for dessert I have a second stomach.
Everything was delicious and it was a very satisfying dinner.
Unforgettable memories!