I visited "Furuya Ryokan" in Atami. Furuya Ryokan is a long-established and luxurious hotel that was founded in 1806, with a guest room that has its own hot spring open-air bath and kaiseki (Japanese course) cuisine that is served in your room.
Furuya Ryokan is recommended for the people who…
want to stay in a spacious room with an open-air hot spring bath
like hot springs that are 100% free flowing from the source
want to have kaiseki cuisine in their room
want to stay in a convenient location for sightseeing near the center of Atami
want to experience the best hospitality
Furuya Ryokan is the oldest Japanese style hotel in Atami, which was founded in 1806. There is a gallery in the hall, which has items exhibited, like the oldest radio in Japan.
In addition, at Furuya Ryokan, you can enjoy a hot spring that flows directly from the source called "清左衛門の湯 (Seizaemon no Yu)", which is a privately-owned hot spring. The guest rooms are luxurious with an open-air hot spring bath (although some rooms do not have a bath).
There are no flashy facilities in the building, so it is suitable for those who want to enjoy a quiet atmosphere, traditional style meal, and hot springs.
Access from Tokyo
It takes about 35 minutes by Shinkansen Hikari from Tokyo (about 50 minutes by Shinkansen Kodama) to get to Atami. And then It takes about 15 minutes on foot from Atami Station to Furuya Ryokan (about 5 minutes by taxi).
If you don't have heavy luggage, it's a fun to walk through the shopping street to think about souvenirs while heading to the hotel. The shopping district has many shops including dried fish and sweets shops.
We walked down the shopping street to Furuya Ryokan.
A solid gate that looks like its from a previous era will appear.
I took a picture of the gate and as we approached the staff came out to the gate to greet us and I was checked in immediately.
Spacious room
I was immediately guided to the guest room. All rooms are Sukiya (Japanese tea ceremony) style.
It is a spacious room with a private open-air hot spring, a total 65 square meters. It seems that the furnishings of the guest rooms are different for each room, so if you stay in other guest rooms, you can enjoy a different atmosphere.
When you open this curtain, you can view the beautiful Japanese garden.
There are no rooms with ocean views at this ryokan, because there are high walls in the large garden so that passers-by cannot see inside.
It is located near the center of Atami, but it is very quiet and calm.
The garden is well managed and the greenery is beautiful.
The private open-air hot spring bath in the guest room that flows directly from the source
Next, I would like to introduce the private open-air hot spring bath in the guest rooms.
The bathtub of the open-air bath of the room where I stayed is large and made from a single rock.
Enjoying a special bath like this is the moment when you feel good about staying in this hotel.
I closed the door of the small changing room and got ready to take a relaxing soak in the spacious bath.
The nice thing about rooms with open-air baths is that you can take a bath as many times as you'd like.
At Furuya Ryokan, both the guest room open-air bath and the large communal bath use private sources called 清左衛門の湯 (Seizaemon no Yu). This is a hot spring that flows directly from the source, and is neither hydrated nor heated. It's a luxurious style.
It is a transparent hot spring like Atami, and the hot spring power keeps you warm after the bath.
Of course I went to the large communal bath as well, it was spacious and comfortable for the size of the hotel.
After enjoying the bath, you can wander around the shopping street until you have a meal, or you may go out to see the ocean as Atami Sun Beach is just a short walk away.
Dinner is an original Kyoto-style kaiseki meal
For dinner, you can enjoy kaiseki cuisine in your room. Since you can eat in your own private space, it is recommended for those who want to spend a relaxing time, such as those with small children and couples.
The dish was a Kyoto-style kaiseki dish that uses seasonal ingredients. Many local fish were used as sashimi.
There were a lot of sake as drinks, and staff told recommended one based on my favorite tastes like sweet or dry.
Each kaiseki dish is delicious and very delicate, and it seems that the appearance is very meticulous.
I think that the appetizer alone conveys the luxury of the meal.
The dinner changes every month.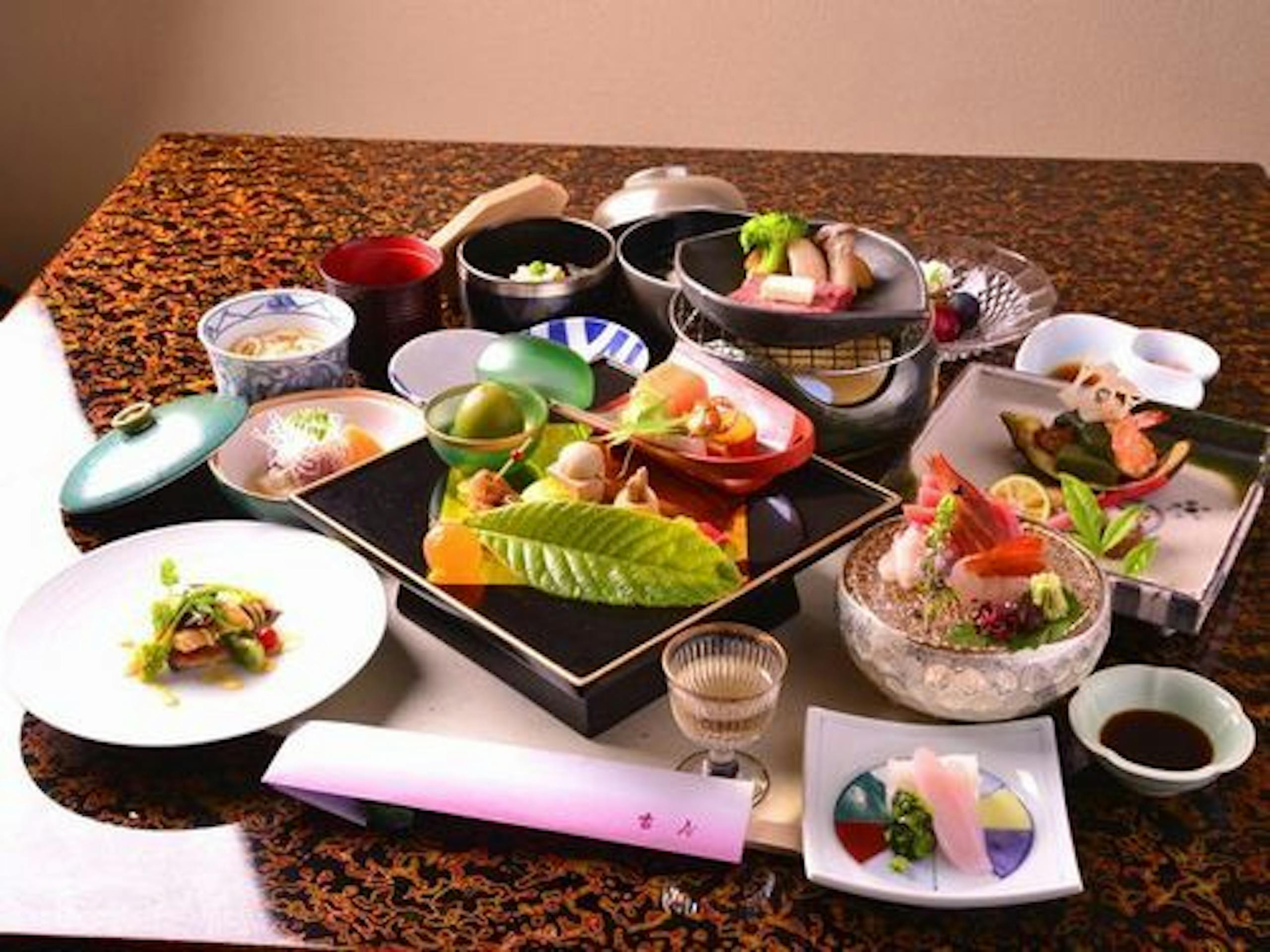 We could choose beef or abalone for the grilled cuisine and we chose abalone.
I think that the grilled abalone is a dish unique to this type of hotel. The appearance of the abalone dancing on the fire was very surprising.
It was a big abalone from Hokkaido, the northern-most island of Japan, and it was soft, tender, and delicious.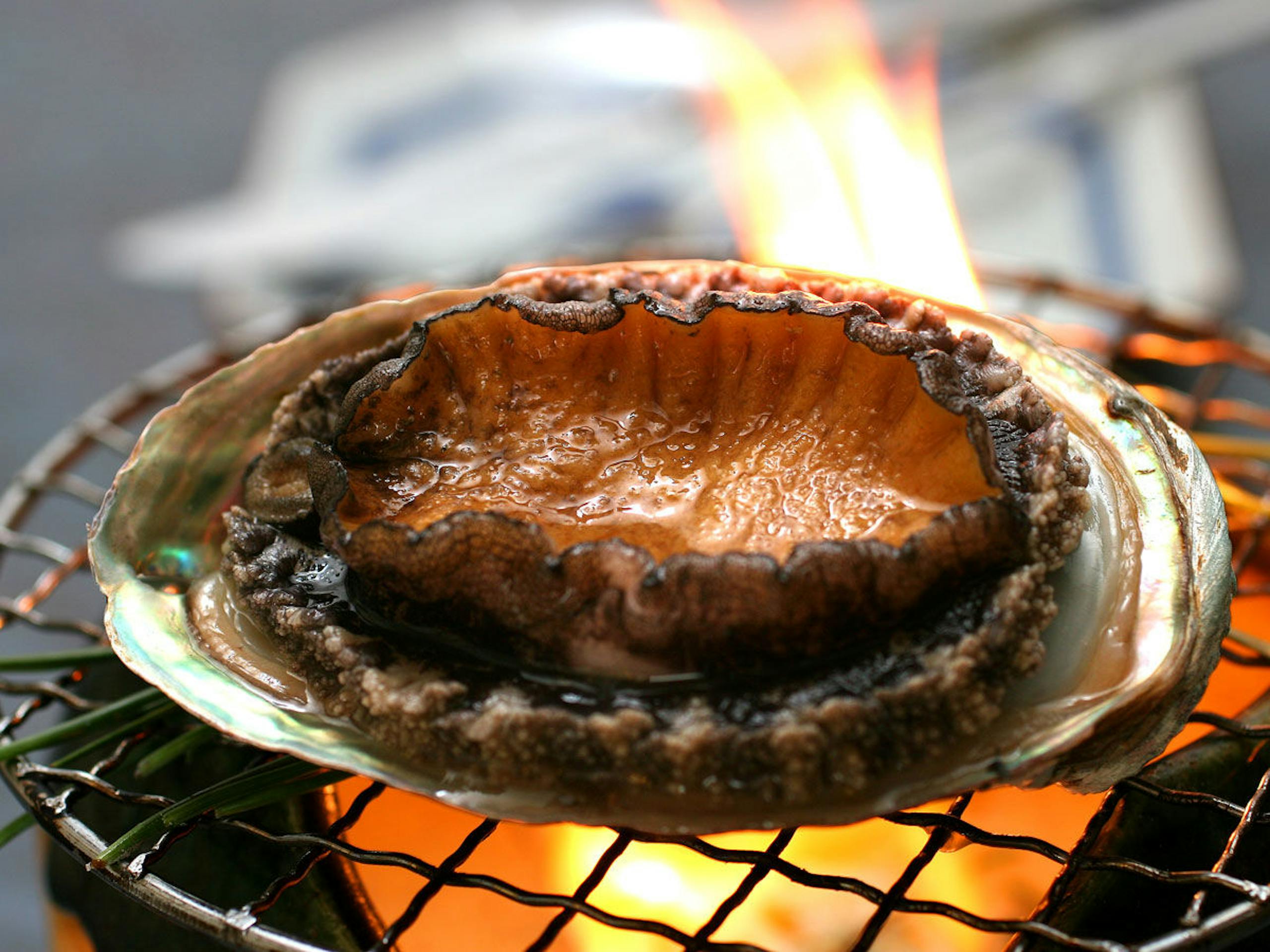 If you want to add more Atami local dishes, there are also extra dishes, such as stewed sea bream, that you can order for an additional fee (advance reservation required). (The meal was so large that I didn't have room to add any more food.)
The timing of staff's service was perfect, and I was happy that she taught me a lot about the dishes and ingredients.
I was interested in the miso soup and rice, and I had "mukago rice". (Mukago is like a small potato that grows on the stem of yam and forms at the base.) The simple taste was delicious.
The meal was a very good size, enough to satisfy even a large appetite. I was able to enjoy the dessert, but I was quite full.
After finishing the meal, the staff had set out the futon, so I enjoyed the hot springs again and then took some rest.
A luxurious traditional style Japanese breakfast with dried fish
Breakfast was also very luxurious and you can take in your guest room.
Atami is famous for its dried fish, which you can enjoy along with sashimi.
You can choose your type of rice from either steamed rice or porridge.
Of course, everything else was delicious.
Availability of Furuya Ryokan
The hot springs and food were very satisfying, and the hotel was very warm and kind, and I wanted to stay there again.
However, because it is a very popular hotel, it is often difficult to make reservations.
Please check the website for availability and accommodation plans.