Kyushu island, in southern Japan, has some of the most famous and plentiful amount of hot springs. Oita prefecture has two famous hot spring areas, Beppu and Yufuin.
Both Beppu and Yufuin hot spring areas are easily accessible from Oita Airport. There are many flights available from Haneda Airport (Tokyo) which makes it easy to reach, so even if you don't take a day off on weekdays, you can visit these areas on the weekend.
In this post, I will summarize the features and differences between Yufuin and Beppu, as well as consider which of Yufuin and Beppu will be more refreshing based on my own experience. If you are thinking whether to travel to Yufuin or Beppu, or if you want to know which hot spring area is suitable, please read until the end.
If you only want to know the results, you can find them here, and for my recommended hotels/inns, see Beppu or Yufuin.
Hot spring
First, I will compare the amount of hot spring water and the number of hot spring sources in Yufuin and Beppu.
Amount of hot spring water
Number of sources
Beppu
83,058 L/m (21,942 gal/m)
(#1 in Japan)
2,217
(#1 in Japan)
Yufuin
44,486 L/m (11,752 gal/m)
(#2 in Japan)
879
(#2 in Japan)
As this data shows, Beppu ranks first in Japan in terms of the number of hot spring sources and the amount of hot spring water. Beppu has more hot springs, but Yufuin, which ranks second in Japan, also has a large amount of hot spring water, and there are many places where you can enjoy fresh flowing hot springs.
Next, I will introduce hot springs that you should visit in Beppu and Yufuin.
Beppu Takegawara Onsen
About a 10 minute walk from Beppu station, there is Takegawara Onsen (竹瓦温泉). It's in the middle of downtown where you can see night clubs for men. Built in 1878, Takegawara Onsen is a municipal hot spring located in Motomachi, Beppu City, and is a beautiful building with a historical tiled roof.
The inside of the building has not been renovated, so you will feel as if you have slipped back in time.
My recommended activity here is Suna-yu (sandbath).
For the sand bath you change into a special yukata (kimono style cloth), lie down on the sand, and the ladies shovel the warmed sand on the top of your body. Ibusuki in Kagoshima Prefecture is famous for sand baths, but you can also enjoy them here in Beppu.
The sand, warmed by geothermal heat, warms the body to the core, and it seems to be good at detoxification. The moderate weight of the sand feels good, so it is a nice relaxation for a tired body.
It's only about 15 minutes buried in the sand, but when you sweat, your body becomes warm and your skin becomes smooth.
Even people who don't like the heat and stuffiness of a sauna can easily take on the challenge because your face and head are outside the sand and are not hot.
After the sand bath, you can take a shower and then bathe in the hot spring. I felt like the joints around my shoulders, which are usually stiff, became limber.
If you have long hair, I recommend that you tie it so it doesn't get sandy. (I had sand all the way to my scalp and it was hard to shampoo afterwards.)
Yufuin Musouen
Yufuin doesn't have municipal baths in historical buildings like Takegawara Onsen in Beppu. However, in Yufuin, there are public baths, day trip hot springs, and hotels which accept day trips.
Among them, I would like to introduce "Yamano hotel Musouen". While it is a hotel, their hot springs accept day trips without a reservation. The open-air bath with a view of Mt. Yufu is more than 270 square meters. Another great point is that you can use the 4 private baths at no additional charge. Please come as a family or a couple.
Beppu, which ranks first in Japan, wins in terms of the amount of water produced and the number of hot springs.
The historic building of Beppu Takegawara Onsen, Sunayu, is my recommended spot. At Yufuin Onsen, I recommend the open-air bath of 270 square meters while gazing at nature.
Sightseeing spots
Beppu Jigoku (Hell hot springs)
Beppu is famous for its "hells" (hell-like hot springs). There are eight hells, including Umi Jigoku (Sea), Oniishibozu Jigoku (Demon's head), and Yama Jigoku (Mountain).
I especially recommend the nationally designated scenic spot Umi Jigoku. Umi Jigoku is said to have been created by the explosion of Mt. Tsurumi about 1200 years ago.
It is a very beautiful cobalt blue color due to iron sulfate and I cannot think of as a "hell".
However, contrary to the beauty of its appearance, it is considered to be "hell" because its temperature is 98°C (208°F) and has a strong sulfur smell.
If you want to tour the hells, I recommend starting from Umi Jigoku as it will be more efficient.
Umi Jigoku also has a footbath, a souvenir shop, and a cafeteria. The Jigoku steamed pudding and hot spring eggs sold here are my favorites to nourish my tired body.
In addition, Oniishi Bozu Jigoku (demon's head), which is right next to Umi Jigoku, is a "hell" that is completely different because of the hot mud.
It's not steaming, it's a quiet and simmering, which is also hell-ish.
Next is Yama Jigoku (mountain) which is right next to Oniishi Bozu Jigoku, steam is billowing up from the vicinity of the foot of the rocky mountain.
A small zoo is set up which uses the heat of Jigoku to make a warm environment for the animals.
Nine kinds of animals including flamingo, Japanese macaque, African elephant, Indian peacock, black swan, etc. are living there. It might be a good hell for those with children. (In this case, "hell" is a misnomer, it can be enjoyed by all)
Yufuin Lake Kinrinko
A famous sightseeing spot in Yufuin is Lake Kinrinko (金鱗湖), which is about a 30-minute walk from Yufuin Station.
The lake has both hot and fresh water springs flowing into it and the morning mist can be seen from autumn to early winter. The morning mist is a sign that the lake is fed by hot springs.
In addition, Yufuin has many fashionable shops and cafes, so walking around the town is fun. My recommendation is trying some sweets. Among the sweets in Yufuin, I recommend both the matcha gelato at Telato, where you can choose the thickness, and the pudding at Milch (I will introduce it at the end of the page).
Although they may not have an English speaking guide, I would like to recommend for sightseeing in Yufuin the horse and carriage (or tsujibasha in Japanese). It starts from Yufuin Station and takes about 1 hour, goes around Bussanji Temple, Unagi Hime Shrine, and returns to Yufuin Station.
The driver will guide you through the history of Yufuin on a slow-moving horse-drawn carriage.
I think it was a unique sightseeing experience, with the pleasant sound of horse hooves echoing in the scenery of Mt. Yufu.
The horse-drawn carriage runs 15 times a day, every 30 minutes from 9:00 am. Tickets can be purchased at the information center next to Yufuin Station.
As I went around this course, the driver talked about the history of Yufuin, and I became more fond of this city.

Both the Hell tour in Beppu and the town walk in Yufuin are very satisfying. If you want to get away from busy life, Yufuin has advantage with its beautiful views and historic horse and carriage. It's a very unique experience.
Meal (Restaurant)
Beppu area Jigokumushi(hell steam)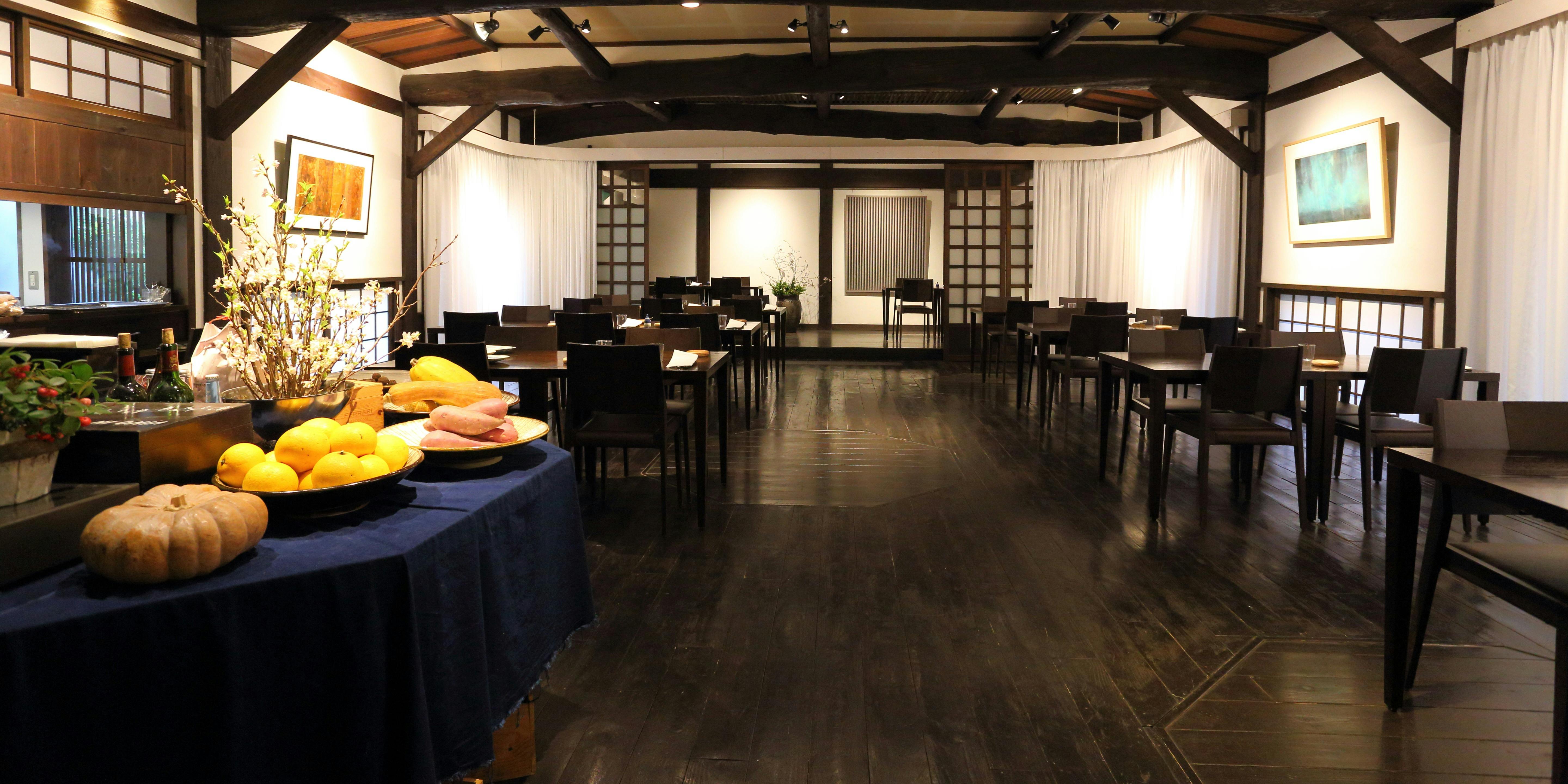 A restaurant called "Otto e Sette Oita", located 15 minutes by taxi from Beppu Station, is an Italian restaurant that uses ingredients from Kyushu. Lunch and Dinner are a course, and you can have Jigokumushi (food steamed by hell). You can taste the collaboration between Italian and Jigokumushi flavors, and it will be a special memory of your trip.
In addition, the building, which is a renovated old hot spring spa, is quaint and wonderful. There is a private room, so it can be used for special meals for couples and family dinners. It is reasonably priced and recommended for lunch and dinner. (reservation required)
Yufuin Yufu Mabushi Shin
In Yufuin, my recommendation is "Yufu Mabushi Shin". (I couldn't take a good picture, because I was too focused on enjoying the delicious dish.) This restaurant has 2 locations near Lake Kinrinko and Yufuin Station. The "Bungo beef mabushi" is an excellent value for your money.
Bungo beef is one type of wagyu beef, it is juicy and goes well with freshly steamed rice! Eat the first cup as is, then add the condiments to the second cup, and finally add the soup stock to the third cup to make rice soup. You can also enjoy the taste of the crispy rice at thee bottom.
In addition, there were a good selection of appetizers, which were delicious and very satisfying.
However, it is a very popular restaurant, so there are people lining up even before it opens. So, I recommend visiting before opening.
Both Beppu and Yufuin offer exquisite dishes made with locally sourced ingredients that can only be found here.
Cityscape
Beppu downtown district
Beppu City is the second largest city in Oita Prefecture, and has more than 8 million tourists visit every year.
There is a hand bath in front of the station, and there are foot baths everywhere, its a hot spring resort!
However, Beppu is a big city, and it has became an entertainment district. If you want to drink with friends at bars, or hang out at night clubs, it will match the fun atmosphere of the city.
In case you would prefer to be quietly relaxing in a hot spring resort, I think you will spend time at a luxurious hotel rather than walking outside.
Yufuin traditional hot spring town
The beginning of a Yufuin trip is from Yufuin Station Building.
It is a wooden building designed by Arata Isozaki who is one of the most famous architects of the 1990s, and designed simply to keep the beautiful cityscape as the main focus.
When you go out of the station building, there are many cute souvenir shops and restaurants, and you can enjoy walking around the town. When I visited in the evening, the red lanterns were beautiful. Taking a stroll is fun even with a group, but I recommend enjoying the calm atmosphere as a couple or with family. When I want to have an adult's relaxing trip, I usually pick Yufuin.
Yufuin is recommended if you want to refresh from your busy life and spend a relaxing quiet time.
If you want to go downtown with friends, Beppu is recommended because it has many nightspots.
[Bonus] Pudding Comparison
The last is the pudding showdown. The reason I picked pudding is that sweets are an indispensable part of a refreshing trip. Also, I really just like pudding.
Beppu Hell steamed pudding
For pudding in the Beppu area, I would like to introduce "Hell steamed pudding" (Jigoku mushiyaki pudding), sold at Umi Jigoku.
This pudding is made using the heat from the hot spring source.
Hell steamed pudding has a bittersweet caramel sauce and a rich taste. It's a little bit of happiness in hell that's perfect for a tired body. It's a simple deliciousness, and it seems that there are many fans!
In addition, eggs boiled in the hot spring are also sold at Umi Jigoku. There are eight hells, but only Umi Jigoku has boiled eggs.
Enjoy a little happiness in hell!
Yufuin Milch pudding
Yufuin also has delicious pudding that is as good as Beppu. As I walked through the streets of Yufuin, there were many sweets shops selling pudding.
Among them, I chose a shop called "Yufuin Milch". Their pudding is made using milk from Yufuin, but unlike Beppu, it is like a very thick milkshake.
This pudding is tasty and recommended for those who like soft and rich taste. In addition, there was a long line so it seems to be a very popular shop.
Result Announcement! Which is better, Yufuin or Beppu?
The result of "whether of Beppu and Yufuin is more suitable for a trip to relax your body and mind?" is…
Both are hot spring resorts that you will be satisfied with if you visit, but I think there is a type that suits you.
People who Beppu is suitable for…
want to hang out in the entertainment district
want to enjoy the nightlife
want to travel with their friends and children
The sand bath at Takegawara Onsen is a recommended hot spring that you should try! Also, Jigoku (Hell hot springs) have scenery unique to Beppu.
People who Yufuin is suitable for…
want to relax in nature
want to spend the night quietly at a hotel/inn
want to have an adult's travel
Yufuin is a smaller, calmer and quieter town compared to Beppu. The scenery of the town is beautiful, and sightseeing with horse and carriage will make you feel extraordinary.
So, in my personal opinion, I travel to Yufuin when I want to relax after being tired with city life in Tokyo, and to Beppu when I want to enjoy a girls' trip or with my family.
Lastly, I would like to introduce the recommended inns.
[Beppu] Recommended hotels and Japanese style inns
Here are some recommended hotels/inns in Beppu. I have picked up ones in the following order: (1) Adult's hot spring trip, (2) luxury trip, (3) Family or group trip.
Enjoy hot spring and meal!
Hotel Shiragiku
The best recommendation here is the large public bath. This hotel is irresistible for hot spring lovers, such as the open-air garden bath and rock bath. The thick, slightly alkaline hot spring water can be expected to beautify the skin. There are Japanese-style rooms, Japanese-Western rooms, and Western-style rooms, so those who prefer beds can rest assured. For dinner, there are carefully selected Japanese cuisine and Japanese-Western creative kaiseki course, and you can choose to eat in your room or at the restaurant/dining space. In addition, there is a free lounge where you can enjoy tea while viewing the scenery of the four seasons in the Japanese garden.
Extraordinary experience
Kannnawaen
A large inn with a Noh stage (Japan's oldest form of theater) and a tea ceremony room. All guest rooms are equipped with an open-air bath with natural hot spring water. For dinner, you can choose from teppanyaki dishes such as Bungo Wagyu beef, or kaiseki cuisine with fresh seafood. In addition, there is a pool, gym and esthetic salon where you can enjoy a superb view. Jigoku is within walking distance.
Group or family trips
Suginoi Hotel
A large resort hotel with 587 guest rooms. The large public bath, from which you can overlook the Beppu city area, has a wide variety of types, including open-air baths, sleeping baths, and cave baths (reopening in June 2023!). For dinner, depending on the room you stay in, you can enjoy a buffet at a restaurant inspired by the streets of Naples or a restaurant inspired by an island floating in the water. There is also a huge aquarium, so kids will enjoy it. There are also hot spring facilities where families and couples can enjoy wearing swimsuits.
[Yufuin] Recommended hotels and Japanese style inns
Yufuin has many types of inns, but I have picked three inns where you can spend your time calmly and quietly.
A spacious inn full of greenery!
Kamenoi Besso
Founded in 1918, this inn has 20 rooms on a 10,000 square meter site connected to Lake Kinrin. Although it is close to tourist spots, it is a very quiet and spacious inn, and all rooms have hot springs (open-air or indoor bath). The bath in the large guest room is nice, but the large communal bath in the garden is also fantastic. Not only the rooms and hot springs are wonderful, but the kaiseki cuisine (Japanese style dinner course) is delicious and the beautiful dishes will be memorable. As the name suggests, you can feel nature in the atmosphere of an extraordinary villa.
The inn where you can feel the history!
Yufuin Tamanoyu
A 15 minute walk from Yufuin Station, this ryokan (Japanese style inn) has 14 guest rooms in a wooded area. All guest rooms have a hot spring bath with a wooden bathtub. It is also a nice point that airweave (a mattress that is particular about sleeping comfort) is used for bedding. You can choose from Bungo wagyu beef, shrimp shabu-shabu and duck hot pot as the main dish for dinner. You can enjoy it with other dishes that use carefully selected locally sourced ingredients. It's not a gorgeous inn, but you can feel that it has a long history.
Spectacular view overlooking Mt. Yufu!
Asagirinomieru Yado Yufuin Hanayoshi
Hanayoshi Yufuin, an inn where you can see the morning mist.
It is a 6-minute drive from Yufuin Station (with a hotel shuttle bus). Mt. Yufu looks beautiful from the rooms and the open-air baths in the guest rooms, and I was impressed by the scenery. The open-air hot spring baths in the guest rooms have different styles, including those with a jacuzzi and others with baths made of cypress. Some rooms have a footbath as well. The meal varies depending on the season, but it is an original kaiseki meal (Japanese style dinner course) using locally sourced ingredients, including wagyu beef.