Kagoshima has one of the most unique natural health treatments, a "sand bath", where you can relax by lying in and being buried by black sand.
This time, I visited "Ibusuki Hakusuikan" in Kagoshima prefecture, which is famous for its sand baths. This black sand treatment was born over 350 years ago.
Black sand health treatment is very rare in the world and the places where you can experience sand baths are limited, even in Japan.
Ibusuki Hakusuikan is a popular hotel that is ranked in the "Trip Advisor Travelers Choice" and 6th in "100 Best Hotels and Ryokan in Japan" .
This hot spring is highly recommended for people who
– want to experience the black sand treatment
– want to enjoy the large public bath with Edo period public bathing style
– want to try cuisine using seasonal ingredients in various styles such as Japanese, Italian, and Western
Transport From Tokyo to Kagoshima
It takes about 2 hours from Tokyo (Haneda Airport) to arrive at Kagoshima Airport. There are about 20 flights a day, so it's easy to access.
From Kagoshima Airport, you can reach Ibusuki Station in 1 hour 35 minutes by bus (airport shuttle bus bound for Yamakawa/Ibusuki). From Ibusuki Station, you can get to Ibusuki Hakusuikan in 7 minutes by taxi or hotel shuttle bus.
Check-in time for Ibusuki Hakusuikan is 3:00 PM. If you have time before check in, I recommend visiting Satsuma Denshokan and having lunch at Ristorante Fenice on the grounds of Ibusuki Hakusuikan.
When I arrived at the hotel, while I waited for check-in time I enjoyed a free welcome drink in the lobby until, Kagoshima's specialty, sweet potato shochu. It is a little strong, but they also offered free tea and juice as well.
Japanese and Western rooms
This hotel has a few different types of rooms. I chose a Japanese and Western style room. There is a tatami space next to the bed, so you can spend time eating snacks and relaxing.
Black Sand Treatment Experience
The black sand treatment bath at Ibusuki Hakusuikan, which is a specialty of Ibusuki hot spring area, can be experienced without lining up if done early after check-in or the next morning.
When I went to the sand bath at around 5:00 PM, the reception desk at the sand bath was full of people and there was a waiting time of about 40 minutes.
I wanted to take a black sand bath before dinner, so I decided to wait. There were pottery works of art on display close to the entrance, so I enjoyed those while I waited.
The entrance to the sand bath is divided into men and women (each is connected to the large communal bath), but you can meet your significant other at the entrance to the black sand bath.
I changed into the clothes I received at the reception and headed to the black sand area.
The black sand bath is very simple, you lie down on the sand, with your head rested up, and the staff will shovel the sand on top of your body.
A clock was placed where it could be seen, even while buried, so you can get up after the recommended time of about 10 minutes. This time is just a guide, so if you want to get out of the sand before that, you can easily do so.
While I was buried in the sand, camera people come along to take a picture if we wanted.
Unfortunately, bringing in smartphones and cameras is prohibited, so if you want to take a picture, you will have to purchase the picture taken by the staff.
The photo taken by the camera people is print, not data, but it's taken with a dated sign and Japanese umbrellas.
It will be a good memory of your trip.
The sand is a little heavy and hot like a sauna. While I was buried in the sand, sweat dripped down my forehead and gradually I felt tired.
When I looked at the clock, 12 minutes had passed. The heat of the sand didn't cool down, so the hot black sand became more and more effective, and after 15 minutes, I was done and came out of the sand.
I was sweaty but my body and soul were refreshed.
The sand bath is directly connected to the large communal baths for men and women, so you can enjoy the hot spring after cleaning your body and hair with a shower.
Edo style large communal bath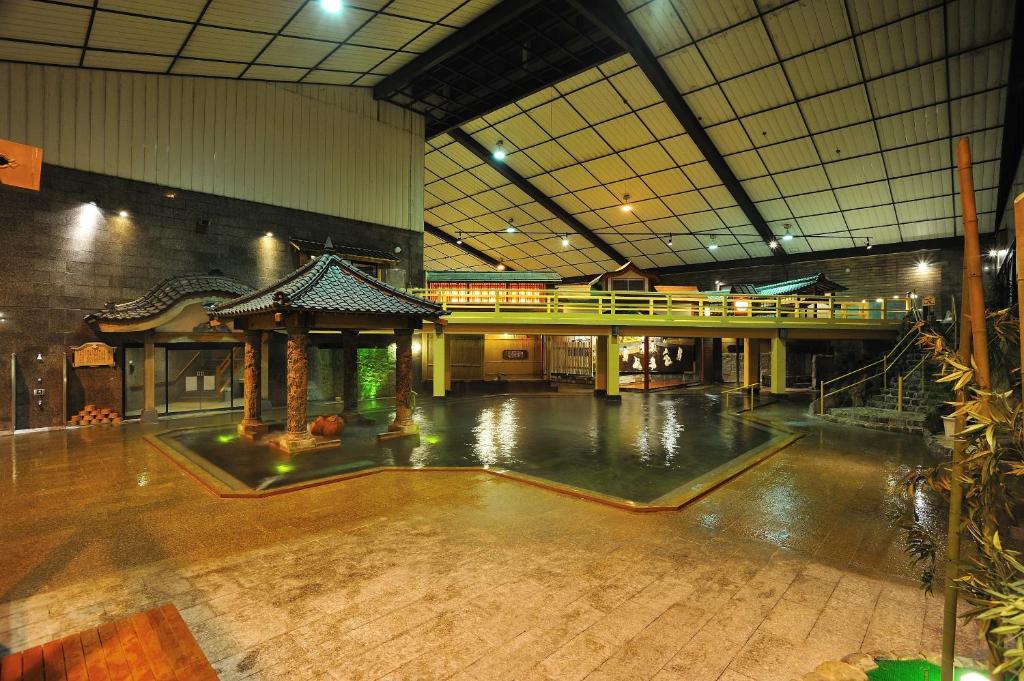 The Genroku bath, which has the atmosphere of the social gathering place for the common people in the Edo period, has an indoor bath, an open-air bath, as well as two different types of saunas.
It's hot spring water contains a lot of natural moisturizing substances like metasilicic acid and calcium ions, and is called the "Beautiful skin hot spring".
In addition, ​​the hot spring is over 3,000 square meters, so it is very spacious, even if it is busy.
Lunch and dinner
The lunch and dinner courses are introduced on the following pages.