Are you thinking about whether to visit Atami or Hakone as potential hot spring resorts that are easily accessible and close to Tokyo? Both have their own characteristics, and the atmosphere and price range of accommodations are different, so you should choose a destination according to your purpose.
In this post, I'll compare Atami and Hakone to see which one is more suitable for your kind of trip, and then introduce recommended hotels and ryokans.
If you only want to know the results, please click on the results section, and for the recommended hotels, click on the hotels in Atami and Hakone.
Please note that this is just my personal opinion😉
Quantity and type of source
As a hot spring area, I will compare the amount and type of hot springs.
Atami
Atami has an abundance of hot springs, with an output of 16,600 liters (4,385 gallons) per minute, an average temperature of 63°C (145°F), and more than 500 sources. Hot spring are colorless and transparent, and contains sodium and calcium chloride. Since it is weakly acidic, it is gentle on the skin and safe for children.
Hakone
Hakone (a hot spring that bubbles up in Hakone Town) is the 5th largest in Japan with an output of 19,500 liters (5,151 gallons) per minute and 345 hot spring sources. It is one of the most famous hot spring tourist destinations in Japan.
Surprisingly, there are about 20 types of sources, including simple alkaline, sodium chloride, and calcium sulfate.
If you choose by source, Hakone is the winner because it has a large amount and variety, but it is best to check what kind of source the hotel you are staying at has. For children and those who are concerned about their skin, it is a good idea to avoid hot springs with strong acidity.
Types of accommodation (luxury hotel, group trip, family trip)
I will introduce the different types of accommodations that are common in Atami and Hakone. Atami and Hakone show slightly different trends.
Atami
While Atami has quiet historical luxury inns, it also has many large hotels. There are wide range of prices along with many options, from luxury inns for special occasions to hotels that can be used for friends group trips.
Although the data is a little old, according to the number of accommodations published by Atami City (as of the end of 2015), there are 116 inns and 175 dormitories and corporate resorts in Atami. During the bubble economy (80s-90s), Atami was chosen as a destination for company trips and as a recreational facility for companies, and it seems that there are still many people who use it for such purposes.
In addition, Atami has the beach called "Atami Sun Beach", so it is suitable for family trips, friends and couples who want to spend time at beach.
Atami is a good choice for groups or families that want to be active and have fun.
Hakone
Hakone does not have many large hotels, but rather many small and medium-sized inns.
According to the "Jalan Accommodation Travel Survey 2021", Kanagawa Prefecture, where Atami is located, is ranked 3rd in terms of "many attractive accommodation facilities" as the reason for traveling. In many cases, the main purpose of traveling to Hakone is to stay at a nice inn.
Hakone has many high-class inns, and I think it can meet the needs of those who want to feel extraordinary at a high-class inn while being relaxed by hot springs and delicious cuisine.
In addition, according to the "Research study on economic impacts of tourism in Japan (2019)" published by the Japan Tourism Agency, the average accommodation cost per person for a one-night, two-day overnight trip is about 9,300 yen, and the average transportation cost is about 11,200 yen. In Hakone, where transportation costs are not so high coming from Tokyo, a slightly more expensive inn would be within budget because of transportation savings.
Both tourist destinations have various types of inns and hotels, but Hakone has more small luxury accommodations, and Atami has more accommodation options for those who want to travel in a group or want to play actively with their children.
Sightseeing spots
Both have substantial sightseeing spots, but for different tastes.
Atami
Atami Fireworks Festival
The sea of Atami is not only for swimming, but also the Atami Marine Fireworks Festival. This fireworks display is held not only in summer, but also 10 times a year.
The final fireworks called "Niagara Falls" is so powerful that you forget to blink🥺
There is also a day trip bus tour from Tokyo to the Atami Fireworks Festival.
Atami Castle
From the observation deck of the castle tower, you can see not only the city of Atami, but also Hatsushima island and Oshima island if the weather is good. This view itself is enough to enjoy, but there is also a footbath where you can soothe your tired feet while enjoying the scenery.
In addition, next to Atami Castle, there is the Atami Trick Art Labyrinth Museum, where you can enjoy taking photos of art that looks three-dimensional using optical illusions. It is a facility that can be enjoyed not only by children but also by adults.
In addition, there are many other sightseeing spots such as the MOA Museum of Art, which has about 3,500 pieces, Kinomiya and Izusan Shrines.
Hakone
Hakone Open Air Museum
It is an art museum where you can experience various works of art in an outdoor setting. There are many hands-on works that you can touch and see inside, as well as the Picasso Pavilion which has more than 300 pieces. There is also an outdoor footbath, so you can enjoy the museum while taking a break.
Pola Museum of Art
The museum has a large collection of Impressionists such as Monet and Renoir which attracts many art fans. You can appreciate masterpieces in a spacious area that is not found in art museums in the city. Also, it is fun to have a menu that matches the exhibition at the restaurant.
Hakone also has other museums worth seeing such as the Venetian Glass Museum (my favorite museum:) They have a lot of pretty artworks.) and the Hakone Museum of Art. Eating Kuro tamago (black eggs which are boiled in the hot spring) at Owakudani will also be a unique memory of Hakone as you watch the hot springs gushing with a strong sulfur smell.
Both Atami and Hakone have many sightseeing spots, and it can be hard to decide where to visit, but if you want to enjoy museums and other exhibits, Hakone has more choices. If you want to enjoy the beach or fireworks, Atami would be the better choice.
Day trip hot spring
I think there are several types of facilities for day trips, such as single day facilities and hotels which accept short stays, but there are also differences between Atami and Hakone.
Atami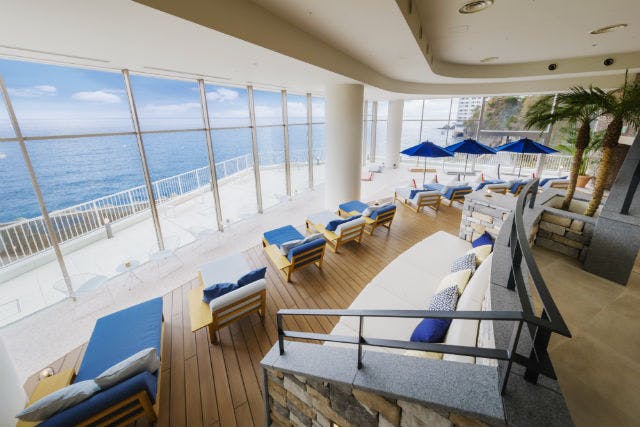 Ocean Spa Fuua is a day-trip hot spring facility in Atami. Opened in 2019, this facility not only has a hot spring, but also a bedrock bath, a restaurant, and a souvenir shop, so you can enjoy a full day here.
Many large hotels in Atami also offer day-trip bathing plans.
Hakone
Hakone has plenty of day trip bathing facilities. Hakone Yuryo, luxury hotel Yumoto Fujiya Hotel and Tenseien are well-equipped facilities. While there are hot spring theme parks like Kowaki-en Yunessun (which also has swim suit hot spring pools), there are also day plans for hot springs and beauty treatments at luxury inns, so you can choose according to your needs.
Day trip hot spring facilities in Hakone
Both of them have plenty of day trip hot springs for those who want to relax for a short time, but Hakone has Kowaki-en Yunessun, a hot spring theme park.
Lunch
Here, I will compare the lunches that you can have in restaurants, not at the inns.
Atami
Doesn't this set of three dried fish at Irori Chaya look tasty?
Speaking of gourmet food in Atami, sashimi and dried fish made from the Izu suburbs are famous.
This time, I will introduce Irori Chaya, a 2-minute walk from Atami Station. The photo shows a set of 3 kinds of dried fish (horse mackerel, red snapper and Japanese butterfish) with sashimi horse mackerel. Raw whitebait is also included, which makes it a very luxurious set. Stewed alfonsino and sashimi tuna are also delicious and popular.
Hakone

For gourmet food in Hakone, I would like to recommend Naokichi's Yuba-don (soy milk skin with rice), which is a 3-minute walk from the Hakone Yumoto station. Yuba-don is made with soy milk skin, shiitake mushrooms and green onions, simmered in dashi stock using spring water from Mt. Hakone.
The Yuba-don in the photo is 1,100 yen, but the Yuba-don + Yuba-sashimi + special tofu set is 1,700 yen and they have a larger set for 2,300 yen. The Yuba-don, which is a light meal, has many repeat customers, and there are many people who visit every time they come to Hakone.
In particular, Japanese style inns often serve kaiseki dinners which are quite a large portion, so this is recommended if you want to have a light lunch.
The final result! Which is better, Atami or Hakone?
The better option depends on the purpose of the trip, but it can be summarized as follows.
People who Atami is suitable for…
want to have an active trip with friends and children, such as sea bathing, fireworks, trick art museum, etc.
want to enjoy walking around the city, eating while walking in the shopping district and footbaths
like hot springs with an ocean view
People who Hakone is suitable for…
want to enjoy various hot springs
want to celebrate a couple's anniversary at a luxury Japanese inns
want to spend time in the hot spring rather than the beach or other activities
like hot springs with a mountain view
Recommended hotels and hot spring inns
I will introduce hotels and inns that suit a variety of purposes, from trips for couples on special days, family trips, or friends group trips.
Atami
Traditional Japanese inn
Furuya Ryokan
A inn which was established over 200 years ago! Furuya is a 15-minute walk from Atami Station and a 3-minute walk from Atami Sun Beach. Each room is a minimalistic style Japanese room. You can enjoy a luxurious original kaiseki meal (Japanese cuisine course) in your room, so it is easy to use for a couple's anniversary or a family's special trip. There are also guest rooms with open-air hot spring baths flowing directly from the source, for those who want to stay at a higher-grade hot spring inn. My husband and I stayed here on vacation!
The luxurious 5-star hotel
Fufu Atami
1 minute by taxi from Kinomiya Station, which is one local station from Atami. 32 rooms in total. It is spacious like a suite, and has an open-air hot spring bath directly flowing from source. Their dinner is Japanese cuisine, teppanyaki, sushi, etc. Meals vary depending on the room you stay in. It's perfect for couples and families, and it's also popular for its attentive service for babies and children. I recommend for people who want to sleep in a bed, and have a relaxing and special trip.
In front of the beach!
Hotel Micuras
About 12 minutes walk from Atami Station. Right in front of the beach. You can enjoy watching the Atami Sea Fireworks Festival from the ocean view guest rooms. Dinner is a French full course. There are rooms with hot spring baths, but my recommendation is the beautiful view of the ocean from the large public bath. Another good point is that this is more inexpensive than the above two hotels.
Hakone
Bali-style hot spring resort
Hakone Airu
10 minutes walk from Hakone Yumoto Station. All rooms have open-air baths. The Hakone mountain range can be seen from the bath. The guest rooms are Japanese-style, but the interior of the hotel is Bali-style. For dinner, you can enjoy creative Japanese cuisine in a private dining room. My favorite is the bar surrounded by fish tanks, which has a nice atmosphere and is perfect for a romantic date.
Symbol of Hakone
Fujiya Hotel
Japan's first resort hotel, opened in 1878. Many of the buildings are registered as tangible cultural properties, making this hotel a symbol of Hakone.
The hotel has been renovated, so it is more modern style while being a classic hotel.
The room is a fusion of Japanese and Western styles. You can choose dinner from French, Japanese and other western styles. My recommendation is to have French in the beautiful main dining room 🙂 The beef curry for lunch is also famous, so this is a place most people want to visit at least once.
(Also, please be aware that Fujiya Hotel and Yumoto Fujiya Hotel are different hotels!)
For trips with friends and family
Tenseien
About a 12 minute walk from Hakone Yumoto Station. The roof has several hot spring baths including 17m width one! Some guest rooms have outdoor baths, but there are also 12 private bath room which can be reserved for free, so it's good for families and couples. Meals are served buffet-style which also includes foods freshly prepared right in front of you. This hotel is suitable for both family trips and friends group trips. I like their large outdoor baths!
Access from Tokyo
Let's talk about access from Tokyo.
Atami
To get to Atami from Tokyo, take the Shinkansen Kodama from JR Tokyo Station, in about 45 minutes (about 4,300 yen) you will arrive at JR Atami Station. If you want to save on transportation costs, you can also use the JR Tokaido Main Line which takes about 1 hour and 45 minutes (about 2000 yen). Easy access with no transfer required. Alternatively, if you are heading from JR Shinjuku Station or JR Ikebukuro Station, you can get there in about 1 hour and 30 minutes on the Limited Express Odoriko.
Hakone
To access Hakone, you should take the Romancecar from Odakyu Shinjuku Station which takes about 1 hour and 15 minutes (about 2,300 yen) to Hakone Yumoto Station. There are observation seats in front and behind the Romancecar, so you can enjoy the scenery that you can't usually see on a normal train. If you want to keep your budget down, you can get there in about 1 hour and 40 minutes (about 1,840 yen) by using the Odakyu Line special rapid service from Shinjuku Station to Odawara Station and using the Hakone Tozan Railway from Odawara Station to Hakone Yumoto Station. .
If you go by car, you can get there in about 1 hour and 30 minutes, depending on the road conditions.
Both are easily accessible from Tokyo. Atami can be reached in as little as 45 minutes by Shinkansen, but Hakone is also attractive because you can enjoy the observation seats on the Romancecar.